Site updates
Few and far between lately.....

09.16.01
Updated the Addiction and homepage.

I have a little more free time now so hopefully can get the whole site back to a decent state.

Out flyin'...
Me and my Addorker at my home field in Gilroy, CA. Model is an Addiction fuselage with Schpot Dorker wings and stabs, my own rudder. Weight is a little under 56 ounces and performance is excellent.
Recent stuff...

My first trip to the Rose Bowl Festival in Pasadena was a lot of fun. I blew up my primary model on Friday while practicing and so flew my MH32 Addiction in the contest. Ended up 12th in open and 4th in 2M. Fellow SBSS club member Maarten Van Dijk was 5th in 2M.

Our Summer Classic 2 day event was not a good one for me, lost my primary model, a new 7037 Addiction to a flyaway. Have a new one now and it's flying great, getting prepared for Visalia the first weekend of October.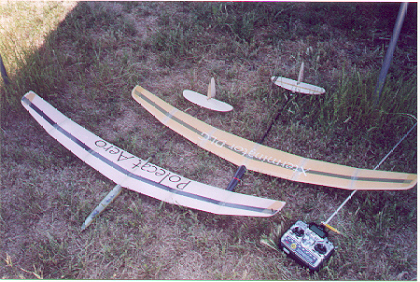 Sidewinder and Xterm Pro
I fly as much HLG as regular thermal duration and am obsessed by it. These are two of my recent gliders, both Polecat Aeroworks products which I've been extremely happy with. I flew a prototype Xterminator Pro at the IHLGF this year. Denny Maize of Polecat takes great care of me and I'd recommend his stuff to anyone.
polecat aero